Director of Sarge's Place in Forks shares about their help for vets
Reported by Lois Krafsky-Perry
Sequim, WA–Republican Women of Clallam County (RWCC) met at First Federal Savings on Saturday, October 21, 2017, and hosted speaker, Cheri Tinker of Forks.
Tinker is from a military family, and is director for Sarge's Place, which is the non-profit group, North Olympic Regional Veteran's Housing Network.
Sarge's Place is located in Forks and houses and cares for veterans. Some of them are homeless and have mental health issues as well as disabilities.
Funding has come from some grants as well as donations. Several years ago, a Washington Senator helped them receive $500,000 for building in Forks. They are hoping to get more help from the legislature.
READ MORE >>>
Next meeting will be held on Nov. 18, 2017 at Joshua's, starting at 9:30 a.m. The meeting will be to elect officers for the next two years.
Incumbent Port Commissioner McAleer speaks to Republican women
Reported by Lois Krafsky-Perry
Port Angeles, WA – The Republican Women met at Joshua's Restaurant on Sept. 23rd at 9 a.m. to enjoy each other's company and listen to Colleen McAleer, candidate for Port Commissioner. McAleer is the incumbent in the nonpartisan position.
Her message: "We need to improve our economy." McAleer spoke of issues where she has been involved in helping the Port, as well as many county interests.
The current commissioner, with her family, spent her growing up years in the military. She also served 10 years as a helicopter pilot in the US Army and was a military intelligence officer, and is a combat veteran.
McAleer is President of Washington Business Alliance and former Commercial RE Broker, at Team McAleer. While involved in real estate, she became concerned about the needs of many of her tenants and clients, as she represented commercial properties in Sequim and Port Angeles.
The Sequim resident, who has children in local schools, is also concerned about education needs. She believes many problems children are having relates to the concern for parents to have jobs and the means to support their needs. "A job can change lives, like nothing else," said McAleer.
Creating an environment in the community that supports jobs has been a priority, for this current commissioner. Best management practices, at the port, is important to her, and she said she has worked hard to improve communication and better management priorities, offering several examples of the results accomplished while she's been there. Creating weekly work sessions, as one example, has been of help to the office.
Several issues were discussed, as questions were posed to the candidate, which she was able to answer efficiently.
MARK YOUR CALENDARS! Meetings for the RWCC will be held on the 3rd Saturday of each month – time and place to be announced. Watch for it here!
Message from the RWCC President:
Oct. 9, 2017 – We recently sent out care packages to 2 active duty militarty members. I received this email today from Col Dave Abrahams and wanted to send it out to you. It was nice to hear from Col Abrahams.
I want to thank all of you who helped out with the packing of the boxes and purchasing items to send.
~Anne Stiles, President
Following is the email from one of the recipients:
Dear Anne and Martha –
I sent a written card out today, but I also wanted to follow up with a short email to just thank you for the time you all took to pack boxes for me to share with my soldiers. All of them were very appreciative, and I hope that you will hear from some of them. I took the liberty to provide your email, and asked them to send you a note if they took part in any of the goodies that were provided.
Please pass my appreciation to all the members of the Republican Women of Clallam County for their thoughts and appreciation. Organizations like yours who reach out to service members help us stay motivated to represent the great citizens of the United States with honor and pride. It brings meaning to our mission and courage to our hearts.
Thank you for keeping in touch with my mother, her condition is so debilitated that it is hard for her to stay positive. Great friends who check in on her are highly valuable to her.
All the best!
Dave Abrahams
COL, US Army
FHS Class of 1987
President of WFRW spoke at August 2017 meeting
Dee Drewry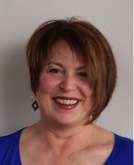 , president of the Washington Federation of Republican Women was the guest speaker at our meeting held on August 26, 2017 at the First Federal Savings conference room in Sequim starting at 11 a.m. She discussed club building and the role of the RWCC in the community.
Sheena Younger also spoke about creating a survivor support group for abused survivors of sexual abuse. She plans to set up a local nonprofit group. Story follows:
Clallam County mother plans community awareness for sexual abuse survivors
by Lois Perry
Shenna Younger spoke at the RWCC (Republican Women of Clallam County) meeting August 26th, in Sequim.
"This is my first public talk," she announced as she laid out plans to educate the community and help also the survivors of sexual abuse.
Plans are underway for founding a non-profit. "I want to create a survivors support group," said the Sequim mother and business woman. She has contacted the schools and there is an interest in educating students, as well. The first meeting will be
3 PM
,
September 17
, at her home.
Potluck provided fun and fellowship!
The July 8th, 2017 meeting/potluck at Robin Bookter's house offered a great time for fun and discussion.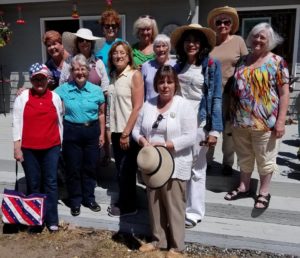 June 3rd – General Meeting
A general business meeting was held on June 3, 2017 at GOP headquarters located at 509 S. Lincoln St, Port Angeles, WA starting at 11 a.m. For those interested, join us for lunch immediately following the meeting.
P4Q president to speak about helping vets on April 22nd
Matthew Rainwater, president of Pennies for Quarters (P4Q) spoke at the Republican Women of Clallam County (RWCC) meeting on Saturday, April 22nd at 10:00am in the meeting room of the at First Federal branch on W. Washington in Sequim. He shared with us how we can help local veterans, as far as donations such as we collect for the shoeboxes. Matthew is also the chairman of the Clallam County Republican Central Committee. Sending "shoebox" care packages to military people from here serving overseas has been a RWCC project for about 20 years.
In preparation for sending out more shoeboxes to our military, here is a list of suggested items to donate:
COLLECTING FOR THE MILITARY SHOEBOX PROJECT!
A reminder that we need to replenish our collection of Shoe Box Items to send to our overseas men and women that are from our area. Following is a list of things to think about while you are out and about shopping to toss in. You are welcome to drop it by the Republican office in Port Angeles or drop off at the Sequim Avenue Branch of First Federal (ask for Robin).
1. Boot sox (extra cushioning)
2. Hard Candies
3. Honey Roasted Nuts
4. Bars of Soap
5. Deodorant
6. Baby Wipes
7. Floss
8. Toothpaste
9. Toothbrushes
10. Large Handwarmers
11. Hand lotion
12. Sunscreen
13 Pocket size bug repellent
14. Zippo wind proof lighters
15. Travel size games
16. Travel size Kleenex
17. Bandaids
18. A personal note
19. Magazines (sports, fishing, hunting, etc.)Remember: All Items should be new and unused. Toiletry items, unscented.Don't forget to see if your dentist, local stores, will donate some of these items
---
Previous meetings
Ever wonder what it would be like to grow up in a communist country?
Maria Malkasian, a native of Romania, spoke at the Republican Women of Clallam County meeting on Saturday, Feb. 25, 10 a.m. about life before, during and after communists took control of Romania. The event was held in the conference room of the First Federal bank branch on W. Washington, in Sequim.
She shared her experiences about life in a small town near Bucharest, where live was extraordinarily difficult, and "everything was gray".
---
FLASH curriculum not good for children, says speaker
Jan. 14, 2017 – Susan Shotthafer, elected Port Angeles School Board member who was speaking on her own behalf as a citizen, shared insights about the newly-passed FLASH sex education curriculum with the Republican Women at their first meeting for 2017.
Shotthafer was the guest speaker at the Jan. 14, 2017 meeting held at GOP headquarters. She covered numerous aspects of the new curriculum which could adversely affect the young 4th through 12th graders. The curriculum originated in King County. Parents were not apprised of the content.
To see the curriculum for yourself, click on http://www.kingcounty.gov/depts/health/locations/family-planning/education/FLASH/elementary-school.aspx (you'll be able to see more information on the left sidebar). In particular, read the section entitled, "Reproductive System, Day 2".
To learn more about the dangers of this type of curriculum, read the following article: https://www.lifesitenews.com/news/ontarios-dangerous-sex-ed-is-indoctrination-not-science-says-u.s.-psychiatr, then watch Dr. Miriam Grossman's video here: https://www.youtube.com/watch?v=0IeKSCHXs-0
---
Peach, Johnson featured speakers
The Republican Women of Clallam County met at 10:00 a.m., Saturday, Oct. 22, at Clallam County Republican Party headquarters, 509 S. Lincoln, Port Angeles.
District 3 Clallam County Commissioner Bill Peach and Independent candidate for District 2 Clallam County Commissioner Randy Johnson spoke about the importance of county commissioners.
The RWCC also packed another round of shoebox gifts to mail to people with local connections who are serving overseas in the U.S. military. Families are invited to submit addresses of people who would appreciate receiving boxes. Donations of items to send are also welcome. A list of needed items is posted below.
RWCC meetings are open to all interested people. There is no charge.
Candidates share issues at Republican Women's meeting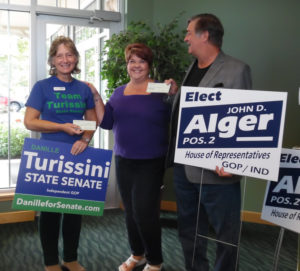 At the Sept. 24, 2016 meeting, Republican Women of Clallam County heard candidates Danille Turissini (for District 24 State Senate), and John D. Alger, candidate for District 24 Representative Position 2 speak.
Treasurer Robin Bookter, center, surprises, Danille Turissini left, candidate for District 24 state Senate, and John Alger, right, candidate for District 24 Representative Position 2, with campaign donations, at the September RWCC meeting in Sequim.
State Candidate Hopefuls Share Ideas
By Lois Krafsky-Perry
Port Angeles…The Republican Women of Clallam County (RWCC) hosted two candidates who are seeking public office, for the 24th Legislative District on Saturday, June 25, 2016.
Danille Turissini, from Port Ludlow (Jefferson County) and John Alger, from Sequim (Clallam County) spoke to a small group of ladies, Saturday, June 25th, at Republican headquarters.
Turissini is running for the State Senate as an Independent GOP (Grand Old Party) candidate.
John Alger also an Independent /GOP, is vying for Position 2, in the House of Representatives.
Turissini, a public relations consultant, with over 30 years of policy experience, has been very active in community and legislative affairs.
She will work towards improving our local schools. "We need to fulfill our funding obligations to public education, as well as support vocational training to prepare our kids for a broad range of careers in today's global economy," states Turissini.
She has a strong interest in creating jobs and growing the economy. Holding government accountable and protecting our freedoms is paramount to the candidate, who will work to cut wasteful spending, improve efficiency, and not impose unnecessary laws and regulations.
Turissini is married to her husband Dave, for 33 years. They have five children and 3 grand-children. You can read more about Danille at her website: www.danilleforsenate.com
John Alger, running for the first time, is a decorated military veteran with 22 years U.S. Air Force service. He is concerned for the future of our Olympic Peninsula and decided to run for the House of Representatives.
The candidate is small business owner and also a CPR/First Aid Instructor.
Alger is active in many community services such as Council Member at Sequim Valley FourSquare Church and member of Board of Directors. He is Board Chair for My Choices Pregnancy Medical Resource Centers of Clallam County.
The economy is a concern for Alger, who states, "It's the economy… we all know in a weak economy, everybody suffers: small business owners, wage earners, home owners, social program and services lack funding. This shouldn't be!" affirms Alger.
The candidate understands the county, in that he grew up in Grays Harbor County and now lives in Clallam County.
The 24th District covers Clallam, Jefferson and Grays Harbor Counties.
Alger notes that jobs are important. "We need jobs! An environment favorable to business startups and growth of existing business is essential to finding our way out of this mess," he stated, while listing economic numbers, such as unemployment figures for the 24th District.
Education is another priority for Alger.
He is married to his wife Linda, for 29 years, and has lived in Sequim since 1998.
RWCC features Prosecuting Attorney Mark Nichols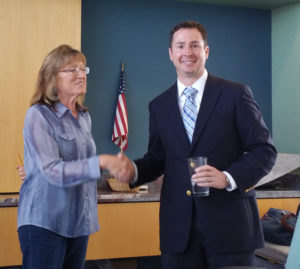 Mark Nichols, Clallam County Prosecuting Attorney, spoke at the RWCC meeting on April 30th, 2016 at 10:30 a.m., at the First Federal Savings office in Sequim. He discussed the duties of his office, and then talked about self-defense as allowed in Washington State.
It's a talk he regularly gives to Neighborhood Watch organizations, and he is willing to come and speak with your group. You can contact him at the Clallam County Courthouse.
---
RWCC FUNDRAISER – GARAGE SALE HELD ON APRIL 23th AT MACCLEAY HALL
The RWCC held a fundraiser at the Garage Sale at the Sequim Prairie Grange at Macleay Hall in Sequim on April 23th. Thanks to all who help make this a success – and thanks to author Martha Ireland for donating a portion of the proceeds from the sale of her new book to the RWCC!
---
On
Saturday, October 24
, at
10:00 am
at the First Federal Bank in Sequim, our guest speaker was Elizabeth (Liz) (Cisneros) Gleason, a former Marine who served in Afghanistan. She served as a Marine journalist while in Afghanistan; the presentation was about her tour of duty. Liz now lives in Sequim. She had received items from the RWCC "Shoebox project".
Here is the video of her presentation (Suggest you use headphones in order to hear clearly):
---
At the June 20th, 2015 meeting, the Republican Women held a candidates' forum. Following are videos of their presentations:

http://youtu.be/vSymRtzRGF0 Jim McEntire, Candidate for re-election to the Clallam County Board of Commissioners-District 1, speaks to Republican Women's Club of Clallam County mtg 06-20-15
http://youtu.be/g_PaSNTSv0o Connie Beauvais, Candidate for Port of Port Angeles, District 3, speaks to Clallam County Republican Women's Club 06-20-15
https://youtu.be/ef2CK374uP0 Shan Pak, Candidate for Port Angeles City Council, Position 5, speaks to Clallam County Republican Women's Club 06-20-15
https://youtu.be/Xoc5fAafG-o Sean Ryan, Candidate for Fire District 3, Commissioner Position 1, speaks to Clallam County Republican Women's Club 06-20-15
http://youtu.be/8_oq1FGX70k Will Payne, Candidate Sequim School District, Director at Large-Position 5, speaks to Clallam County Republican Women's Club 062015
http://youtu.be/_Etryq5fY24 Susan Shotthafer, Candidate Port Angeles School District, Director Pos 3, speaks to Clallam County Republican Women Club 062015
https://youtu.be/8mytwxLNATc Letter read for Susan Sparks Smith, Candidate SARC Park Dist Pos 4 to Clallam County Republican Women Club 062015
https://youtu.be/uSZ-SsXbnzc Dick Pilling, Chairman-Clallam County Republican Party, Speaks at North Olympic Phone Tree Mtg 062015
---
Our May 16th meeting featured Judge Rick Porter, in the conference room of the Sequim First Federal bank branch on W. Washington. He laid out the historical background of Supreme Court rulings and how it's playing out today to remove all limits on federal authority and take over local courts and policing.
---
Clallam County Sheriff Bill Benedict was our featured speaker at the April 18 meeting of the Republican Women of Clallam County. He gave a very informative talk and answered questions. Notes from Sheriff Bill Benedict's talk can be read here.
Meeting featured My Choices executive director as guest speaker
The Republican
Women
met in Sequim on
Monday, September 8 at
The Sequim Worship Center to learn about the My Choices program which helps young men and women make good choices about relationships. Executive Director River Sussman offered valuable information about the program serving our community in the way of offering free prenatal testing, as well as free supplies for the mother and newborn where needed. The program also offers insights to high school students in various classes about the risks of STDs. River then gave a tour of the Sequim facility. There were several new ladies in attendance, having been invited to join us, and a couple of new members as a result.
The meeting also covered support of the Republican candidates who are currently running, updates on local issues and several other topics. Next meeting in October will include several of the candidates – more information to follow.
###
For more information contact:
Stephanie Noblin, RWCC Publicity – sn@larrynoblin.com
RWCC: Don't forget to bring your
donations to headquarters for the RWCC Shoe Box effort. Those gifts
will be shipped to our military men and women soon.
Republican Women of Clallam County
announces the
2014 Achievement Award Essay Contest
Essay topic: Why is the Supreme Court important in the balance of powers: executive, legislative & judicial branches?
Two Achievement Awards will be given. First prize = $500.00, Second prize = $300.00.
Submitters must be currently enrolled as a high school senior attending a public, private, or home school located in the Port Angeles-Sequim, Crescent, or Forks School Districts and planning to attend a post secondary institution.
By submitting an essay, the submitter declares that the essay is his/her original work, that they received no more than limited assistance from others, and that the work does not violate the intellectual property rights of any other person or entity. Any quotations need to be appropriately footnoted.
Essays should demonstrate the submitter's knowledge of history, civics and government. Essays must be submitted in Portable Document Format (PDF), Microsoft Word, or plain text format, must be not less than 400 words and cannot exceed 500 words in length, double space, Times New Roman 12 font and must be in English.
Essays will be judged on the following: content, as well as style, grammar and spelling.
Judging Criteria:
Knowledge of the theme: 30 points. You must show a thorough knowledge of the theme in your work. Demonstrate you have researched the issue appropriately.
Theme development: 35 points. Answer all relevant facts about the theme such as who, what, where, when and why. Relate the topic to current events.
Clarity of ideas: 35 points. Write your essay in an easy-to-understand format. Leave your reader with a clear understanding of your explanation of the topic.
Submissions must be received on or before 11:59 PM on April 4, 2014. Submissions must be submitted via email to the Achievement Award Committee at kpstorst@aol.com . The email message must include the following information about the submitter: full name, age, full residence address, telephone number, email address, school currently attending and name(s) of parent(s)/guardian, name of the institution you are planning to attend. The essay must be included either as an attachment to the email or in the body of the email. Only one essay will be accepted per submitter.
The decision of the judges is final and non-reviewable. The winner of the Achievement Award will be notified on or about the first of May. The winner will be publicly announced and the Achievement Award presented at the May or June RWCC scheduled meeting, the second Monday of each month. The winner will be invited to read his/her essay at the RWCC awards meeting and receive the Achievement Award in person. The winner's family will be invited to attend.
All submitted essays become the property of the Republican Women of Clallam County to use, reproduce, or distribute as it sees fit in its sole discretion, including publication on the Clallam County Republican Party website, although the authorship will be acknowledged. In addition, by submitting an essay, the submitter grants permission to the Clallam County Republican Party to use her or his name and photograph for publicity purposes, including, but not limited to, announcing the winner of the Achievement Award in a press release for local newspapers. Accordingly, the Achievement Award will be presented at the schools' award night or graduation, whichever is appropriate.
For more information about the Republican Women of Clallam County Achievement Award Essay contest or these rules, contact the Scholarship Committee: Penny Thiemann at 360-452-9456.
Click here to download a copy of the above criteria. RWCC 2014 Achievement Award Essay Contest
Click here to download the Application Form. RWCC submission form 2014 Essay Contest
---
The Republican Women of Clallam County send boxes to our military at home and abroad. You can "Share the Love" by donating to the items sent to them, or money, designated for that purpose.
Click here for Shoebox items list –
( not listed, but can be added are packets of Instant Coffee!)
---
Republican Women new officers elected for 2014-2015
On Nov. 9, 2013, the Republican Women of Clallam County came together to elect their new slate of officers for 2014-2015. Elected were:
President, Anne Stiles;
1st VP, Susan Brautigam;
2nd VP, Anita Ready;
Secretary, Martha Ireland;
Treasurer, Nola Judd.
---
Awards were given to help our veterans, including • Voices for Veterans – $650 • Homes for Our Troops and project of North Peninsula Building Association building a home for Marine Corporal Ammon Lang – $600
Following are photos from the November meeting.
---
RWCC co-sponsored Dr. Ken "Hutch" Hutcherson in Sequim

Sequim, WA – On August 10, 2013, former Seattle Seahawk and Dallas Cowboy, and current pastor Dr. Ken "Hutch" Hutcherson, shared his testimony, a sermon, and answered questions from the audience. Co-sponsored by the CCRP and RWCC, "Hutch talked about living through the final days of segregation and how it affected him, and how his attitude changed when he became a Christian. His energetic responses to questions about all topics political offered encouragement to the packed house of citizens who turned out at Sequim Bible Church to hear him speak. Hutcherson has appeared on Rush Limbaugh, Glenn Beck and is an outspoken advocate for freedom and conservative government policies. He has been battling bone cancer for 13 years, and was supposed to have been gone some 5 years ago according to doctors, but as he says, God is the one Who decides when he will go. You can view videos and read his blog at hutchpost.org.
---
The Republican Women's Barn Sale was a great success! Thanks to all who came and participated, as well as the folks who came and bought "stuff"! The proceeds will go toward helping our veterans' organizations, as well as the next year's "Award for Excellence".
Following are some photos from the event (click on image for larger view):
---
Bonny Hazelett wins Award for Excellence from Republican Women's Club
On Monday June 10, the RWCC held its regular business meeting at Monterra Community Clubhouse, from 6:30 to 7:00 PM. The agenda included the presentation of our $500.00 AWARD FOR EXCELLENCE, to Bonny Hazelett, Crescent High School, for her winning essay. Bonny's family was there for the presentation and her reading of the winning essay. Here are some photos of the event:
Bonny and her father Mike Hazelett.
Penny Marinaro introducing our 2013 Award of Excellence winner, Bonnie Hazelett.
Bonny Hazelett and Elaine.
Bonny reading her winning essay.
RWCC "worker bees": Louise Fager, Gayla Heisel and Janette Chrysler.
(Photos by Jan Fagan)
Republican Women of Clallam County (RWCC) believe education and community involvement are important and therefore created the RWCC Award of Excellence. The 2013 award was offered to seniors in the Sequim, Port Angeles and Crescent school districts. Students vying for the 2013 award were required to submit an essay on the subject, "Do Free Markets Work?"Essays were judged and a winner was selected by an RWCC committee staffed by former educators.
At their June meeting, RWCC president Elaine Chandler presented the 2013 Award of Excellence prize of $500 to winner Bonny Hazelett, from Crescent high School in Joyce. Bonny plans to attend Olympic College in Poulsbo this fall, to begin her goal of becoming an attorney.
The Award of Excellence will be offered in 2014. RWCC invites the public to attend future fundraising events to help support local students as well as current military personnel & veterans.
Bonny is graduated from Crescent HS June 15th 2013, and Penney Sanders-Thiemen (chair of the awards committee) gave her a certificate of excellence at the graduation ceremony.
---
Thanks for helping our soldiers!
We would like to thank the community for its very generous response to the "Shoe Box Project" for the troops spearheaded by the Republican Women of Clallam County.
Earlier this month we packed and mailed 14 large boxes of items, weighing 143 lbs. to an Army platoon in Afghanistan and an Army Major and his squad also in Afghanistan. Both recipients have local ties. Donations included personal items, socks, cards, games, jerky, trail mixes, energy bars, candy and handwritten notes.
Again thank you! You have helped bring a bit of home and caring to our deployed young men and women, the 1% who have volunteered to serve their country to protect our freedoms.
Elaine Chandler
President, Republican Women of Clallam County
PS: A very special THANK YOU to those pictured who helped pack all those boxes. We are now looking for donations of items to replenish our stock of items so that we can send out a second mailing this spring. An empty donation receptacle box is awaiting your generosity at CCRP HQ.
Thanks to Ryan Bailey, formerly of the deployed JBLewis-McChord Army Platoon and Penny Marinaro, we have the addresses of these fine young men and women.
If you have items for our "Shoe Boxes for deployed troops", please drop them off at CCRP HQ. There is a donation box located by our RWCC storage locker. We will be packing and sending off boxes soon. We would love to have handwritten notes to include with the boxes; personal notes from "home" mean a lot!
---
Items for the Shoe Boxes
CLIFF BARS, OR SIMILAR KIND OF ENERGY BARS
BOOT SOX WITH EXTRA CUSHIONING
SHOULDER STRAP PADS TO CUSHION HEAVY PACKS
JERKY
DRIED FRUIT MIX
HARD CANDY
TRAIL MIX
HONEY ROASTED NUTS
BARS OF SOAP*
TOOTHPASTE
TOOTH BRUSHES
FLOSS
LARGE HAND WARMERS (Walmart: 3 – 18 hour, large, per package)
DEODORANT*
PERSONAL NOTE/LETTER to the deployed troops
HAND LOTION *
SUNSCREEN*
ZIPPO WIND PROOF LIGHTER (no lighter fluid thru the mail)
TRAVEL SIZE PACKETS OF KLEENEX
DECK OF PLAYING CARDS (as of 01/23/13 we have an ample supply)
MAGNETIC TRAVEL GAMES: CHESS, CHECKERS, SCRABBLE, ETC. (available at Dungeness Kids or Walmart, etcs.)
All donated items must be new, unused and preferably out of the box. *Items: unscented, please.