Previous Meetings/Events
Rev. Wayne Perryman, award-winning author, offered good advice
 Reverend Wayne Perryman, community servant and award winning author, was the guest speaker  to our community  on April 8, 2013 at  6:30 P.M.  at Monterra  Clubhouse, 22 Circle Dr., Port Angeles  98362. The presentation was hosted by  Republican Women of Clallam County.
About Wayne Perryman
A former newspaper  publisher,  radio  talk-show  host,  and  corporate  employment  relations consultant,  Reverend  Wayne  Perryman  devotes  much  of  his  time serving his community. In addition to serving as Minister in Charge of Church Administration for Mt.  Calvary Christian Center Church of God in  Christ,  Rev.  Perryman  heads  up  his  own consulting firm. His company specializes in conducting fact-finding investigations on behalf of inner  city  plaintiffs  who  are  unsuccessful  in  obtaining  representation  through  law  firms  and community  agencies.
His newest book "Teens & Young People Who Impacted the World"  describes and highlights the biographies of several prominent people who started down the road  to  success  as  rejected  and disrespected  children.
Reverend  Perryman  says  "If  we  don't  reach  our young people today, conservatives will not have (a) future tomorrow."
---
Valentine's Social a Great Success!
First of all, thank you all who helped make our Valentine Social such a lively success. A special thanks to Candice Olsen, Gayla Heisel, Yvette Sabin for showing up early to open up and start setting up the Monterra Clubroom. And to Stephanie Noblin for publicizing our event in the newspapers.
A crowd of over 50 members and guests enjoyed the refreshments we provided and were an attentive audience for Sheriff Bill Benedict. Bill shared some of his concerns and frustrations. First of all, the county's retrial expenses for accused double murderer, Harrold Stenson are and will weigh heavily against the county budget. Second, Bill did an excellent job of coming in $300K below his current budget; however, any more cuts will put him in the position of having to lay off deputies, affecting his ability to serve and protect. He fielded questions that covered a wide range of topics from gun control and concealed carry permits, to our water issues, to the location of sex offenders. It was suggested that consolidation of law enforcement forces might help the budget crunch the county is experiencing.
The measure of a successful party, in my view, is that guests continue to linger after the "main event". If that is true, then we had quite a successful event.
Elaine Chandler, President
PPS: If you are interested in learning how to shoot or improving your shooting skills, Dan Shotthafer is willing to schedule a class if there are 5 or more participants. Interested? Contact Dan at rescueliberty@q.com
---
Operation Outreach Spaghetti Feed & Fundraiser aids Veterans' Groups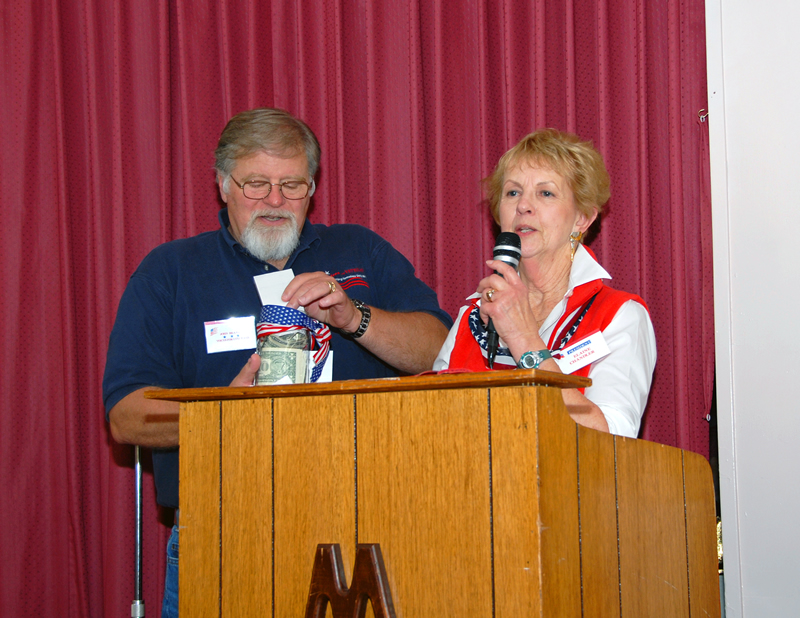 RWCC, with the assistance of members of the CCRP successfully raised enough funds Sunday, September 23, to support Voices for Veterans, Operation Homefront, WA, Help Hospitalized Veterans and Project Shoeboxes.  In addition, a portion of the funds is being set aside to fund a high school scholarship in Clallam County.
"Operation Outreach" was a lively affair with games for children, songs by The Inside Strait: Josie Carrol, Pat Witt, Janet Culver and Jean Emard, who are also members of the Sweet Adelines' Grand Olympic Chorus.  Chef Steven McNabb, proprietor of Wine On The Waterfront, Port Angeles, prepared a mouthwatering menu of all-you-can-eat spaghetti with two choices of sauce, roasted vegetables, garlic bread and salad bar.  No one went away hungry!  Once everyone was seated, John Braasch, President, Voices for Veterans and John McDonagh, President, Operation Homefront, WA addressed the mission of their respective organizations.
A shout out of thanks to the following intrepid members of both RWCC and CCRP who gave so much of their time, talent not to mention the sweat of their brows to make this first annual event such a success:   Micah Dilts (with Ethan, Shiloh Dilts), Louise and Jon Fager, Ruth and Rich Hale, George Chandler, Gayla and Peter Heisel, Anne and Gerry Stiles, Mark Marinaro, Susan Smith, Dick Pilling, Janette Chrysler, Sarah Kincaid and Steven McNabb with Cami, Steven's mother, Cathy.  Many thanks to Penny Marinaro for obtaining The Inside Strait Quartet for us.
 A special thank you to Claudia Cookson, Gayla Heisel, Elaine Chandler, Ruth Hale, Sarah Kincaid who made and/or purchased 17 beautiful baby blankets and baby clothes to donate to Operation Homefront's October baby shower for 350 young mothers, wives of deployed troops, Joint Base Lewis-McChord.
(Click on photos for larger images)
.
Photo credit:  Brian Sullivan.
MORE PHOTOS FROM OPERATION HOMEFRONT:
---
May 7th , 2012

 GUEST SPEAKER DANIEL HIMEBAUGH
&
DAVID EICHNER CANDIDATE FOR US CONGRESS 6TH DISTRICT
---
April 9, 2012 
EILEEN SOBJACK, PRESIDENT OF THE WASHINGTON FEDERATION OF REPUBLICAN WOMEN AND JOHANNA JACOBSEN WHO ATTENDED YOUNG AMERICA'S FOUNDATION CONFERENCE
---

MARCH 14, 2012

STEPHEN PIDGEON
 CANDIDATE FOR ATTORNEY GENERAL
JANUARY 31, 2012
KICKED OFF THE NEW YEAR WITH OVER 100
PEOPLE IN ATTENDANCE!
SHAHRAM HADIAN CANDIDATE FOR GOVERNOR